The Bare Bird – Fresh Chicken – Antibiotic-Free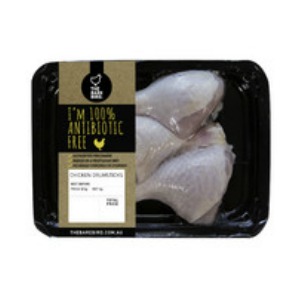 A new brand of 100% antibiotic-free fresh chicken by The Bare Bird fresh chicken company is now available at Coles supermarkets.
The Bare Bird raises its chickens on a healthy, vegetarian diet of grains, seeds, legumes, and oils like wheat, barley, oats, corn, peas, beans, canola, and soy for added protein containing no antibiotics – the vegetarian diet has a great impact on the taste and succulence of the chicken due to the unsaturated fats in the diet. The end result is more tender chicken.
The Bare Bird's fresh Antibiotic-Free chicken range has been developed by John Hazeldene and his family who produce Hazeldene's chicken products at Lockwood, near Bendigo in regional Victoria – the Hazeldene chicken business supplies Australia's major supermarkets and was first established 1938. Hazeldene's currently employ 700 people and is the largest private employer in Bendigo.
Available in 5 variants:
Whole Chicken – ∼$8.50 per kg
Chicken Breast Fillets – ∼$21.00 per kg
Chicken Tenderloins – ∼$21.00 per kg
Chicken Drumsticks – ∼$7.50 per kg
Chicken Thigh Fillets – ∼$18.00 per kg
Located: Butchery aisle
Size: Random weight products
Release date: Released
Road test: Untested
Visit website:Click here
Shelf price: As detailed above
Available from: Coles
Distribution: Vic, NSW & S.A
nov2017