The Natural Confectionery Co – Fruit Loops – Dragon Squad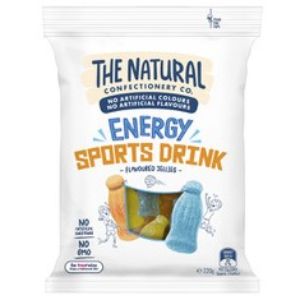 The Natural Confectionery Co. Energy Sports Drink Jellies are bursting with yummy Energy Sports Drink flavours – Orange Blast, Blue Lightning and Lemon-Lime Leap.
A great lolly treat to share with family & friends on game day, at home, or when going on road trips.
Made with 100% renewable electricity
No artificial colours, artificial flavours, GMOs, artificial sweeteners or high fructose corn syrup.
Located:   Confectionery aisle
Size:   220gm
Visit website:   Not available on TNCC website at time of writing
Shelf price:   ∼$4.00
Available from:   Coles, various IGA/Foodland/independent supermarkets
Distribution:   National
feb2021