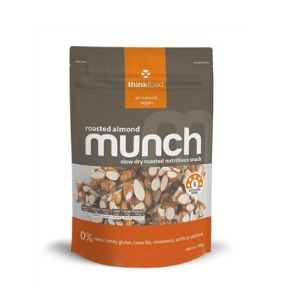 thinkfood Munch – a sumptuous blend of slow dry-roasted nuts, seeds, dried fruits and a sprinkle of sea salt. Our dairy-free, gluten free and wheat free healthy nut snacks are free from artificial preservatives, colours and flavours.
The recipes used to produce thinkfood Munch products have been taken from centuries-old traditions where seeds were roasted and bound with a minimum of ingredients to produce simple, healthy, satisfying snacks delivering genuinely-healthy nutrition.
Munch snacks contain 0%:
Dairy
Honey
Gluton
Trans Fat
Cholesterol
Artificial Additives
The commercialisation of these home-made recipes was no easy task as the production is small batch, labour intensive and artisan-crafted; there are always small differences in natural ingredients which make the production challenging. In short, our products simply cannot be made on a typical factory conveyor belt production line.
To provide sufficient and efficient scale of production to ensure that our products remain affordable, our Munch and Mini Munch production occurs in a purpose-built facility in China that produces exclusively for thinkfood; there is no third party involved, so ingredient sourcing and production techniques are strictly controlled and perfectly crafted by our artisan methods.
All quality controls are rigorously applied; our policies, procedures and production facility is certified by ongoing quality audits which see it HACCP and BRC quality certified; the latter being arguably the most stringent quality assurance certification in the world.
This allows us to provide nutritious, unadulterated and wholesome snack foods at an affordable price for all customers with quality of products that are second to none. Nuts, seeds and the dried fruits we use in our products are global commodities so the produce come from a range of countries including USA, Vietnam, South America and China.
Available in 6 variants:
Almond Trail – 4.5 Health Star Rating – Almond Trail Munch combines the healthy properties of Almonds with the wonderfully rich flavours of both cashews and peanuts, with pumpkin, sunflower and sesame seeds to round out the solid nutrition profile of this blend. To finish off we add cranberries and sultanas for a hint of sweetness. The result is a is a magnificent slow-dry-roasted bite-sized snack, which delivers a beautiful balance of sweet and savoury notes to ensure your body and mind are well nourished; particularly if you're on the go!
Cashew Raspberry – 4 Health Star Rating – Cashew Raspberry Munch provides a magnificent blend of cashews, one of the world's most popular nuts, with a chewy and slightly sweet blend of delicious raspberries & cranberries.
Cashew Sesame – 4 Health Star Rating – Cashew Sesame Munch contains no cholesterol and the delicate balance of sweetness and salt serves to enhance the magnificent flavours of the slow dry-roasted cashew nuts.
Pistachio Cranberry – 4 Health Star Rating – Pistachio Cranberry Munch is a feast for the eyes and taste buds. The combination of almonds, cashews, pistachios, dried cranberries and blueberries makes this snack a devastatingly great blend of flavour and nutrition.
Pumpkin Seed – 4.5 Health Star Rating – Pumpkin Seed Munch is a nutritional powerhouse of vital nutrients. Pumpkin seeds contain minerals such as zinc, iron, manganese and phosphorous, and are also an excellent source of protein, and a very good source of B Vitamins and Vitamin E. Pumpkin seeds are known to help in the lowering of bad cholesterols (LDL) due to phytosterol compounds, and are a great source of tryptophan which aids in the production of serotonin – a key relaxant neurotransmitter found in the brain.
Roasted Almond – 5 Health Star Rating – Roasted Almond Munch is the perfect slow-dry-roasted bite-sized almond snack, which delivers a beautiful balance of sweet and savoury notes to ensure that what you are tasting is the all-natural flavours of the almonds.
Located: Health Foods aisle
Health Star Rating: As detailed above
Size: 140gm
Release date: Released
Road test: Untested
Visit website: Click Here
RRP: ∼$5.50
Available from: Coles, Woolworths, various IGA/Foodland and independent supermarkets, Harris Farm, Costco
Distribution: National