Tip Top – Café Fruit Bread – Blueberry & Vanilla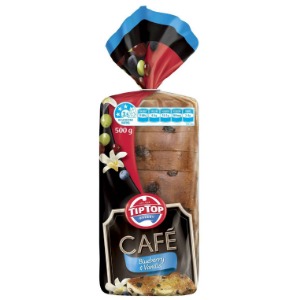 Enjoy the blueberry vanilla goodness in this light and airy loaf. The TIP TOP Café Blueberry & Vanilla flavoured loaf is bursting with the fruitiness of currants, blueberries complimented by vanilla's aromatic flavour.   A gentle combination of flavours made in heaven, so you can savour every mouthful.
Made with no artificial colours, flavours or preservatives.
Located: Bakery aisle
Health Star Rating (HSR): 3.5
Size: 500gm
Release date: Released
Road test: Untested
Visit website: Click Here
Shelf price: ∼$5.90
Available from: Coles, Woolworths, various IGA/Foodland/independent supermarkets
Distribution: National
may2017