Uncle Ben's – Express Rice Pouch – Sriracha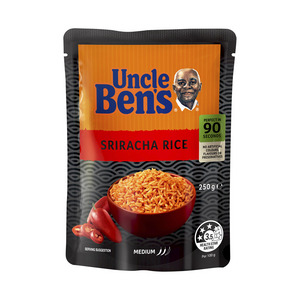 Spice up your dinner or lunchtime meal with Uncle Ben's Sriracha Rice made with carefully selected long grain rice, garlic, jalapeno's, paprika, pepper and a dash of chilli (and a bit of Uncle Ben's know-how) – a tasty and healthy choice, this delicious rice can be enjoyed as part of your balanced diet.
Why not try Sriracha Rice as part of a chicken stir fry for a quick and healthy meal. Or try a vegetarian option with a small can of drained red kidney beans and chilli flakes (for extra heat) for a tasty snack in no time.
Cooks in 90 sec
Serves 2
Contains no artificial colours, flavours or preservatives.
Located:   Rice aisle
Size:   250gm
Visit website:   Not available on Uncle Bens website at time of writing
Shelf price:   ∼$3.25
Available from:   Coles, Woolworths, various IGA/Foodland/independent supermarkets
Distribution:   National
feb2021