Vaalia – Probiotic Kids Yoghurt Pouch – Limited Edition – Honeycomb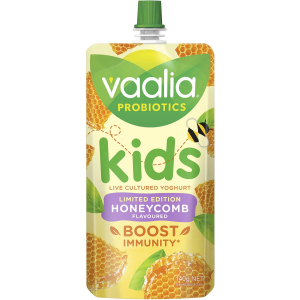 Vaalia's new Limited Edition Kids Yoghurt – Honeycomb is a live cultured yoghurt – a delicious creamy yoghurt that helps kids feel good.
3 probiotics including LGG
LGG can help strengthen the immune system
Vitamin B12 for sustained energy and concentration
Protein for growing bodies
Calcium for strong bodies
No preservatives
Gluten free
No artificial colours, flavours, or sweeteners
Located:   Dairy aisle
Size:   140gm
Visit website:   Not available on Vaalia website at time of writing.
Shelf price:   ∼$1.70
Available from:   Woolworths, various IGA/Foodland/independent supermarkets
Distribution:   National
jul2021
Disclaimer: The Grocery Geek provides general product information, which is intended as a guide only, please ensure that you read the product label before consuming.