vEEF – Plant-based – Bacon Bits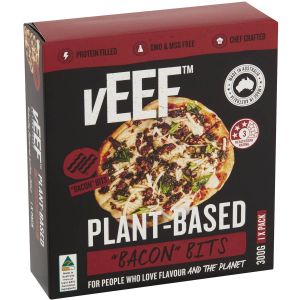 Created by an award-winning chef Alejandro Cancino – who just so happens to be vegan – with help from his plant-fuelled family and team, these "Bacon" Bits boast a deliciously crisp texture and smoky flavour – these tasty morsels offer everything you want. The challenge? Resisting the urge to eat it by the spoonful!
Chef crafted
Protein filled
Perfect for sprinkling over pasta, pizza, salads and more.
Free from: Palm Oil, GMO, MSG, Onion, Garlic, Preservatives.
For people whi love flavour and the planet.
Made in Australia.
Located:   Freezer aisle
Health Star Rating (HSR):    3
Size:   300gm
Visit website:   Not available on vEEF website at time of writing
Shelf price:   ∼$6.50
Available from:   Woolworths, various IGA/Foodland/independent supermarkets
Distribution:   National
feb2021