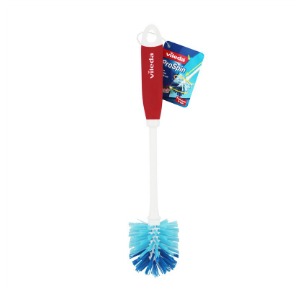 The spinning action of this brush easily cleans glasses**, vases**, jars, bottles and mugs with one quick twist.
The Pro-Spin Brush features a spinning head, just push down to activate the rotating mechanism* and provide maximum cleaning.
Bristles treated with Silver-Ions which prevent the growth of Bacteria
Ergonomic Handle
30cm long for easily reaching the bottoms of glasses** and vases**
*Please place and hold the item being cleaned firmly on a surface whilst using the rotating mechanism.
**Not recommended for use on fine and delicate glassware e.g. stemware.
Located:
Cleaning aisle
Size: 1 ea
Release date: Released
Road test: Untested
Visit website: Click Here
Shelf price: ∼$5.99
Available from: Woolworths, various IGA/Foodland/independent supermarkets or directly from the Vileda on-line store: Click Here
Distribution: National