Vittoria Coffee – Espressotoria System Coffee Capsules – Latte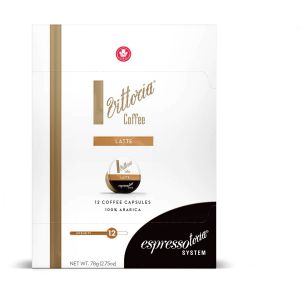 Vittoria Coffee's Espressotoria Latte coffee capsules are compatible with Espressotoria System machines. A medium-dark roast of 100% Arabica beans from Central and South America, Vittoria Latte has been specifically blended to drink with milk.
The word 'latte' is derived from the traditional Italian term 'Caffè Latte' which translates to 'Milk Coffee'.
This blend delivers a clean, medium bodied cup with a slightly sweet caramel-like aftertaste.
Tasting Notes: Milk Chocolate, Caramel, Toffee
Intensity: 12
100% Arabica
Located:   Coffee aisle
Size:   12 Pack
Visit website:   Not available on Vittoria Coffee website at time of writing
Shelf price:   ∼$8.40
Available from:   Woolworths
Distribution:   National
oct2020