Weis – Creamy Frozen Yoghurt Snack Bars – Vanilla, Honey & Almond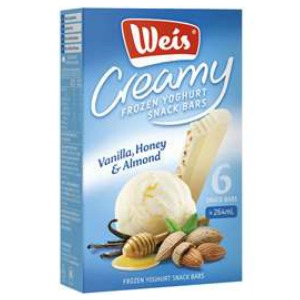 Just like their name suggests, Weis Creamy Frozen Yoghurts are super smooth and creamy! They are a perfect combination of yoghurt, and other gourmet ingredients.
Weis Creamy Vanilla, Honey & Almond Frozen Yoghurt Snack Bars bring together the taste of real vanilla beans, Australian honey and locally sourced almonds.
Real ingredients
Gluten free
No artificial colours
No artificial flavours
Located: Freezer aisle
Size: 6pk (264ml)
Release date: Released
Road test: Untested
Visit website: Not available on Weis website at time of writing
Shelf price: ∼$6.80
Available from: Coles, Woolworths, various IGA/Foodland/independent supermarkets
Distribution: National
aug2017