Weis – Sorbet – Passionfruit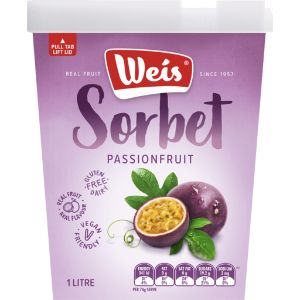 All the Weis care and attention, along with the best quality passionfruit and just a touch of iconic mangoes are used to create each tub of sorbet.
Each serving of Passionfruit sorbet is less than 120 calories, because Weis believe you shouldn't have to compromise in life. Weis always pride themselves in flavours so good they've just been picked from the tree!
Vegan Friendly
Dairy Free
Gluten Free
Made with Australian Dairy
Made with Natural Ingredients
Made with Real Fruit
No Artificial Colours or Flavours
Made in Australia
Located:   Freezer aisle
Size:   1L
Visit website:   Not available on Weis website at time of writing
Shelf price:   ∼$7.00
Available from:   Woolworths, various IGA/Foodland/independent supermarkets
Distribution:   National
oct2020