White Glo – Diamond Series – Power Brush Toothpaste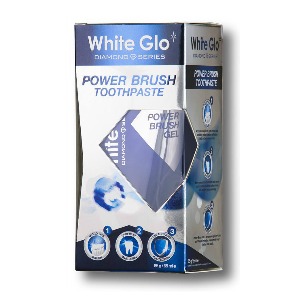 White Glo's new toothpaste is the world's first advanced whitening toothpaste developed especially for use with powered toothbrushes.
Formulated to take advantage of the high speed oscillating motion of modern powered toothbrushes to deliver the ultimate whitening results.
Low abrasive with Micro-Wax safely polishes dullness and discolouration from the surface of teeth to restore shine, lustre and whiteness to teeth.
As most powered toothbrushes have a smaller brush head than manual toothbrushes, the formulation is extra-concentrated meaning that a smaller amount of toothpaste is needed for the same level of whitening and oral protection of conventional toothpastes.
Located: Health & beauty aisle
Size: 85gm
Release date: Released
Road test: Untested
Visit website: Not available on White Glo website at time of writing
RRP: ~$6.99
Available from: Woolworths, and Priceline Pharmacies
Distribution: National