Whittaker's – Creamy Milk – Hokey Pokey Crunch Block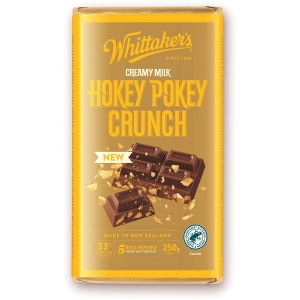 What could be more Kiwi than Hokey Pokey? Whittaker's smooth 33% cocoa Creamy Milk chocolate filled with crunchy honeycomb 'hokey pokey' pieces.
33% cocoa
5 roll refined
Palm oil free
No food GMO additive
No added gluten
Located:   Confectionery aisle
Size:   250gm
Visit website:   Click Here
Shelf price:   ∼$6.00
Available from:   Coles, Woolworths, various IGA/Foodland/independent supermarkets
Distribution:   National
may2021
Disclaimer: The Grocery Geek provides general product information which is intended as a guide only, please ensure that you read the product label before consuming.