Whole Kids – Smoothie Drops – Berry, Banana & Coconut Milk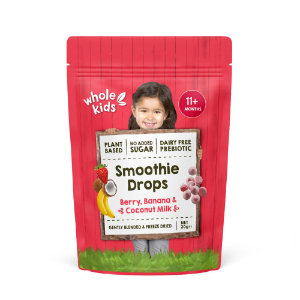 With zero added sugar, clean ingredients and prebiotic, Whole Kids Smoothie Drops are a healthy, tasty option for the on the go snack – Just 3 ingredients plus prebiotic – Organic coconut milk, banana and strawberry gently blended and freeze dried with organic prebiotic to support a healthy gut – Dissolves easily in mouth. For children 11+ months.
Plant based
Just three ingredients
Dairy free prebiotic
No added sugar, concentrates or artificial additives
No GMOs
Vegan
Allergen friendly – Does not contain Egg, Wheat, Fish, Shellfish, Peanuts, Tree nuts, Sesame, Gluten, Soy
Located:   Kids snacking aisle
Size:   20gm
Visit website:   Click Here
Shelf price:   ∼$5.00
Available from:   Coles, Woolworths, various IGA/Foodland/independent supermarkets or directly online from Whole Kids: Click Here
Distribution:   National
jul2021
Disclaimer: The Grocery Geek provides general product information, which is intended as a guide only, please ensure that you read the product label before consuming.