Woolworths S.T.A.N.D. Spring Water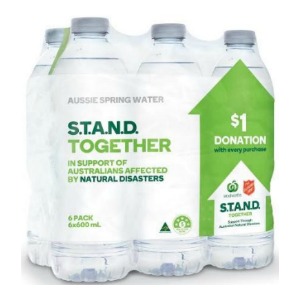 After having supported the Salvation Army for more than 60 years, Woolworths has now entered into a long-term partnership with the Slavos by setting up S.T.A.N.D. (Support Through Australia Natural Disasters) which will raise funds to assist the work of The Salvation Army Emergency Services (SAES) during natural disasters.
As part of the S.T.A.N.D. initiative Woolworths has launched S.T.A.N.D. Spring Water 6 packs which will see a donation of $1.00 from every purchase to S.T.A.N.D. which will assist to ensure that funds and resources are available to help Australians rebuild their lives when affected by natural disasters.
Additionally, Woolworths have pledged to support the Army with a donation of $500,000 each year for five years and will also offer opportunities for customers to donate at their stores during natural disaster appeals.
Located:
Water aisle
Size: 6x600ml
Release date: Released
Road test: Untested
Visit website: Click Here
Shelf price: ∼$3.50
Available from: Woolworths
Distribution: National
Jan 2017