Orgran kid's range reinvented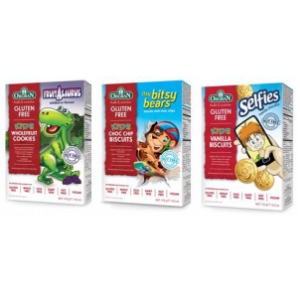 Gluten-free food manufacturer Orgran has relaunched its children's range.
The range now includes:
Biscuits and cookies:
Selfies Vanilla Biscuits : contains psyllium which adds fibre – ∼$3.70.
FruitAssurus Dinosaur Shaped Fruit Cookies: oven baked and is made of 25 per cent fruit. The biscuits contain no cane sugar and have less than 5 per cent fat content – ∼$4.92.
Itsy Bitsy Bears: Come in choc-berry and choc-chip flavour – ∼$3.95.
Outback Animal Cookies: Available in chocolate and vanilla flavours. The biscuits are produced without dairy, eggs, nuts, soy or gluten and contain over 12 per cent dietary fibre – ∼$6.40.
 Breakfast cereal:
Itsy Bitsy Cocoa O's: Made from 73 per cent whole grain cereal with added psyllium for extra dietary fibre – ∼$5.25.
Pasta
Farm Animals Rice & Corn Vegetable Pasta / Outback Animals Vegetable Pasta: Both pastas come in the shape of animals and are made from a blend of rice, corn and vegetables – ∼$3.70.