Heinz – Cauliflower Fries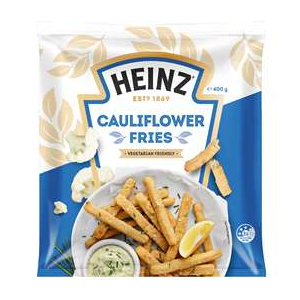 Enjoy a delicious twist on a classic snack with Heinz Cauliflower Fries – these tasty fries are best paired with mayonnaise or aioli.
A delicious combo of cauliflower and potato coated in a lightly seasoned batter – cauliflower Fries are a great snack for the whole family. they are perfect for a great snack for the whole family, serving as a side dish at barbecues and get-togethers – Heinz Cauliflower Fries offer a new and exciting way to enjoy veggies.
Vegetarian friendly
No added flavours or preservatives
Vegetarian friendly
Perfect as a snack or side dish
Pair with your favourite dipping sauce
Quick and convenient
HSR: 3.5
Located:   Freezer aisle
Size:   400gm
Visit website:   Not available on Heinz website at time of writing
Shelf price:  ∼$7.99
Available from:   Woolworths, various IGA/Foodland/independent supermarkets
Distribution:   National
051021
Disclaimer: The Grocery Geek provides general product information, which is intended as a guide only, please ensure that you read the product label before consuming.