Nando's – Vegan Perinaise Peri-Peri Mayonaise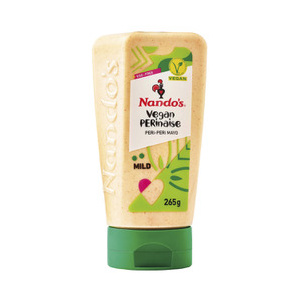 Nando's famous Peri-Peri, subtly blended with egg-free mayo – smooth, creamy and completely vegan. A hint of Peri-Peri heat, a heap of flavour and a whole helping of creamy deliciousness (with absolutely no egg).
Located:   Salad dressings aisle
Size:   265gm
Visit website:   Click here
Shelf price:  ∼$3.90
Available from:   Coles, various IGA/Foodland/independent supermarkets
Distribution:   National
051021
Disclaimer: The Grocery Geek provides general product information, which is intended as a guide only, please ensure that you read the product label before consuming.