Vittoria Coffee – Beans – Crafted For Almond, Oat & Soy Milk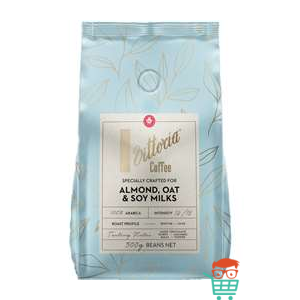 After 64 years of coffee roasting and blending, Vittoria has expertly crafted this truly unique blend to pair perfectly with plant-based milks – it is a sweeter blend of 100% Arabica beans from South America, developed to complement the bitterness of unsweetened almond, oat and soy milks – roasted to a medium-dark profile, this blend is well-balanced with a full body to cut through plant-based milks. The result is a sweet, strong cup with notes of dark chocolate, honey, caramel, malt and toffee.
Blend: 100% Arabica
Tasting Notes: Dark Chocolate, Honey, Caramel, Malt, Toffee
Intensity: 14/15
Located:   Hot Beverages aisle
Size:   500gm
Visit website:   Click here
Shelf price:  ∼$21.00
Available from:   Woolworths or online directly from Vittoria Coffee: Click here
Distribution:   National
220622
Disclaimer: The Grocery Geek provides general product information, which is intended as a guide only, please ensure that you read the product label before consuming.