Vittoria Coffee – Decaffinated Coffee Bags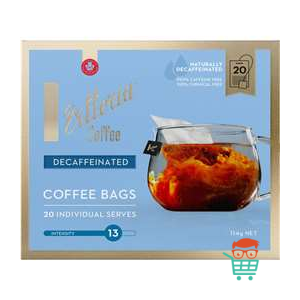 The coffee in these bags has been decaffeinated using a natural process, this 100% Arabica blend has a sweet aroma and medium body with an authentic Italian espresso flavour.
For over 60 years, Vittoria Coffee's ambition has been to provide Australians with the finest coffee in any format they choose. That's why their convenient, single-serve coffee bags contain only 100% Arabica coffee to produce the flavour and aroma you would expect from a barista made coffee.
Tasting note – Grape, Winey
9% caffeine free
100% chemical free
Located:   Hot Beverages aisle
Size:   20 pack (114gm)
Visit website:   Click here
Shelf price:  ∼$12.80
Available from:   Woolworths or online directly from Vittoria Coffee: Click here
Distribution:   National
220622
Disclaimer: The Grocery Geek provides general product information, which is intended as a guide only, please ensure that you read the product label before consuming.