So Good – Soy Milk – Prebiotic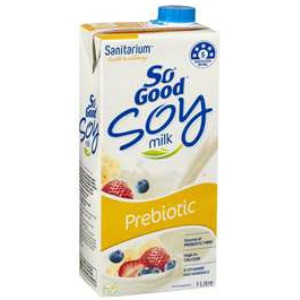 So Good Prebiotic soy milk is the easy and tasty way to help get the goodness of prebiotic fibre into your diet every day.
So Good's prebiotic fibre is gently extracted from chicory root with hot water, adding a mildly sweet flavour and creamy texture. So Good Prebiotic soy milk can be used in all of the ways that you would use soy or dairy milk.
It is perfect with your favourite cereal or in a smoothie and can be used in cooking. It is even perfect for a smooth, creamy coffee — complementing the taste of your coffee.
Dairy free
Gluten free
Source of prebiotic fibre
Source of calcium
Source of protein
Low in sugar
6 vitamins and minerals
Located: Long life milks aisle
Health Star Rating (HSR): 5
Size: 1lt
Release date: Released
Road test: Untested
Visit website: Click here
Shelf price: ∼$2.70
Available from: Coles, Woolworths, various IGA/Foodland/independent supermarkets
Distribution: National
jul2019