Rosella – Vine Ripened Organic Tomato Sauce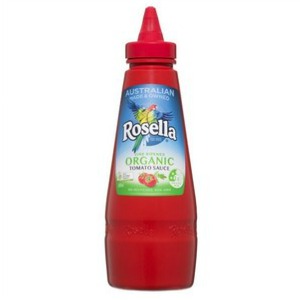 Rosella's traditional Tomato Sauce is reinvented with 100% Australian Grown Organic Tomatoes – it's ACO certified, contains no Pesticides and is GMO Free. This irresistible staple will be a sure hit on any pastry or pie, hot chips or barbeque meat.
Rosella remains committed to supporting Australian farmers and sustainable farming processes, sourcing the first organic vine ripened tomatoes in the country.
ACO Certified Organic
No Pesticides
GMO Free
Australian Made
Australian Grown Organic Tomatoes
Gluten Free
Located: Sauces aisle
Health Star Rating (HSR): 2.5
Size: 500ml
Release date: Released
Road test: Untested
Visit website: Click here
Shelf price: ∼$4.00
Available from: Coles, various IGA/Foodland/independent supermarkets
Distribution: National
jul2019