VB – Limited Edition – Tea Bags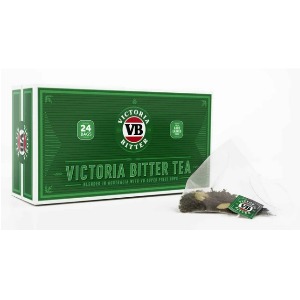 The beloved VB brewery has just launched its very own beer-flavoured tea to celebrate this year's Ashes series.
Each Victoria Bitter Tea Bag contains Ceylon black tea leaves and VB Super Pride Hops, creating what VB believes is the perfect beer-flavoured morning drink.
The 24 VB [Tea] baggies don't contain alcohol, but they do smell and taste just like the classic beer.
24 Pyramid VB tea bags 
Made with Ceylon black tea and VB Super Pride Hops
Blended in Australia from local and imported ingredients
Does not contain alcohol
Vegan and gluten free
Size: 24 pack
Release date: Released
Road test: Untested
Visit website: Click here
Shelf price: ∼$10.00
Available from: On line only, from the Victoria bitter online store : Click here
Distribution: National
jul2019