Dishmatic – Glide Dish Brush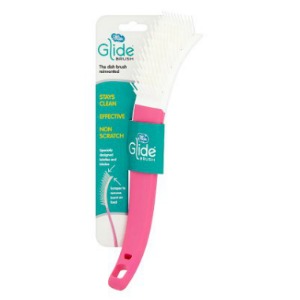 The dish brush reinvented…. Dishmatic Glide brushes are designed using beautifully staggered bristles and blades making washing up that little more glam. They have been designed to be used on all surfaces (including non stick!) and can be washed easily in the dishwasher, ready for next time.
Stays Clean – Dishmatic Glide has been specially designed to reduce the risk of food getting trapped in the bristles. To clean your brush, simply rinse under running water or put in your dishwasher.
Non Scratch – The blades and bristles have been designed for use on all delicate and non-stick surfaces.
Effective – The combination of staggered bristles and blades ensures Dishmatic Glide makes the cleaning chore easier than ever before.
Located: Cleaning aisle
Size: Each
Release date: Released
Road test: Untested
Visit website: Click here
Shelf price: ∼$4.50
Available from: Coles, Woolworths, various IGA/Foodland/independent supermarkets
Distribution: National
aug2019