BabyLove – Premmie Nappies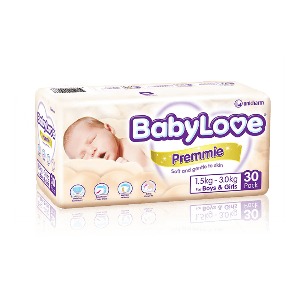 Specially designed for premature babies weighing between 1.5kg – 3kg.
An ultra-soft and comfortable fit for your premature baby – BabyLove's new Premmie nappy has been specially designed to meet the delicate needs of your premature baby. With a unique 3D design, soft stretchy gathers and silky light material, you can feel safe knowing you're providing your baby with the very best in comfort and care.
Unique 3D Design – Gently cups your premature baby's body to avoid cramping and swelling around legs.
Ultra-soft and Gentle – Soft stretchy gathers and silky light material, specially designed for a premature baby's delicate skin.
Umbilical Cord Notch – No discomfort around the navel area.
Breathable Cover – Reduces dampness to help prevent nappy rash.
Wetness Indicator – Alerts mum and dad when baby's nappy is wet.
Located:
Nappy aisle
Size: 30pk
Release date: Released
Road test: Untested
Visit website: Click Here
Shelf price: ∼$18.95
Available from: Chemist Warehouse and your local pharmacy
Distribution: National