Colgate – Sensitive Pro-Relief – Pen & Toothbrush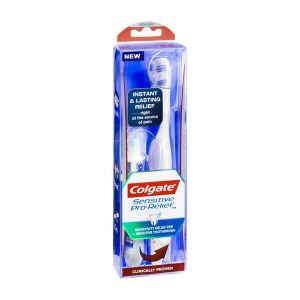 Instant & lasting relief for occasional or everyday sensitivity pain.
Colgate introduces their Sensitive Pro-Relief Sensitivity Relief Pen, a breakthrough clinically proven applicator with patented Pro-Argin technology that shields the exposed channels to the nerves for instant and last sensitivity relief. And the Colgate Sensitive Pro-Relief toothbrush is specially designed with extra soft bristles and soft polishing cups – ideal for sensitive teeth and gums.
It's as easy as:
Brush – using the Sensitive Pro-relief toothbrush.
Treat – apply the gel using the pen (twice daily) to the sensitive tooth and massage for 1 minute.
Go – simply store the pen inside the toothbrush.
Located:
Health aisle
Size: 1pk (1 toothbrush & 1 Sensitivity Relief Pen with 5ml gel)
Release date: Released
Road test: Untested
Visit website: Not available on Colgate website at time of writing
Shelf price: ∼$19.99
Available from: Coles, Woolworths, various IGA/Foodland/independent supermarkets
Distribution: National