Ben & Jerry's – Non-Dairy – Limited Edition – Un-Fudge our Future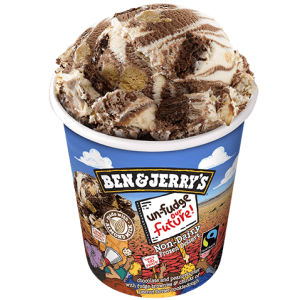 Un-Fudge our Future isn't just a tasty new Ben & Jerry's vegan ice-cream flavour you can't miss, it's a climate crisis call to action you can't ignore. Climate change is a big problem for Australia as we have some of the highest per capita emissions of CO2 in the world. That is why Ben & Jerry's has teamed up with climate leaders 350.org Australia to call on our nation's leaders to 'Un-Fudge Our Future' and make fossil fuels history. There is no Planet B, which is why Ben & Jerry's will also be donating a portion of the proceeds of each pint to this movement fighting for our future.
The Un-Fudge our Future flavour consists of delicious chocolate and peanut butter, fudge brownies & chunks of peanut butter cookie dough.
Made with Almond Milk
Non-Dairy
Vegan
Located:   Freezer aisle
Size:   458ml
Visit website:   Click Here
Shelf price:  ∼$12.00
Available from:   Coles, various petrol and convenience retail outlets
Distribution:   National
aug2020