Borg's – Pastizzi – Pizza Style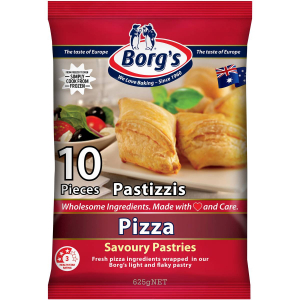 From the traditions of the Mediterranean comes Borg's Pastizzi Pastries – prepared using an authentic recipe from Mrs. Borg's kitchen, these fresh pizza ingredients are selected and wrapped in Borg's famous light and flaky pastry, serving you a wholesome and nutritious meal.
Serve as a quick hot party snack or an ideal meal served with a crisp green salad.
Wholesome Ingredients
Simply Cook from Frozen
Located:   Freezer aisle
Health Star Rating (HSR):    3
Size:   625gm – 10pk
Visit website:   Not available on Borgs website at time of writing
Shelf price:   ∼$6.00
Available from:   Woolworths
Distribution:   National
jul2021
Disclaimer: The Grocery Geek provides general product information which is intended as a guide only, please ensure that you read the product label before consuming.