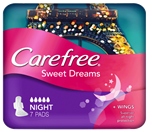 "CAREFREE" has looked at the way women move, sit, run, sleep and play to create a new range of pads with superior leak protection to suit different needs during day and night – Always read the label and use only as directed.
Free sample – Carefree offers the opportunity to sample its products, just go to their website below.
Size:   7/10 pack
Release date:  Released   
Road test:   Untested.
Visit website:   https://becarefree.com.au/
RRP:   ∼$7.99
Available from:   Not advised – seen at Woolworths