Nad's Exfoliating Body Wax Strips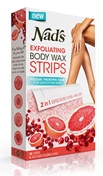 Nad's claims their new "Exfoliating Wax Strips" is the first real innovation in at-home hair removal in over a decade: – the strip with an exfoliator on the outside and wax on the inside, giving the smoothest ever hair free skin.
Each Exfoliating Wax Strip features Nad's patented "Xfol" technology – a course outer surface that buffs away the build up of dead skin and releases ingrown hair, allowing the premium wax to adhere to and remove even more hair to give the best hair removal results at home.
By using the exfoliating surface of Nad's Exfoliating Wax Strips weekly between waxes it keeps the skin feeling smooth, beautiful, and helps to minimise the occurrence of ingrown hair. Nad's states that this product is not tested on animals.
Size:   20 strips and 4 post wax calming wipes
Release date:   Released   
Road test:   Untested.
Visit website:   www.nads.com.au/
RRP:   ∼$7.99
Available from:   Not advised – seen at Woolworths