Colgate – Sensitive with Sensifoam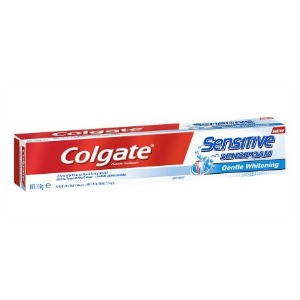 A new gentle formula that envelops the teeth.
With Sensifoam technology, it transforms into a fine foam to get to hard-to-reach areas for a better clean feeling.
Use regularily to provide effective protection for sensitive teeth.
Specially developed for people with sensitive teeth.
Clinically proven sensitivity relief.
Gets to tough-to-reach areas.
Contains Potassium Nitrate clinically proven to soothe the nerves in exposed dentine.
Helps restore the natural whiteness of teeth.
Protects against cavities.
Located: Health & beauty aisle
Size: 110gm
Release date: Released
Road test: Untested
Visit website: Click Here
Shelf price: ∼$8.00
Available from: Coles, Woolworths, various IGA/Foodland/independent supermarkets
Distribution: National