Coppertree Farms – Chef Series – Truffle Butter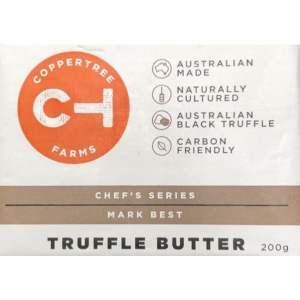 Coppertree Farms is releasing their latest creation in partnership with renowned Australian chef, Mark Best – Truffle Butter using Coppertree Farms famous naturally cultured butter blended with Australian Black Truffle.
Australian made
Naturally cultured.
Blended with Australian black truffle
Carbon friendly
Located:   Dairy aisle
Size:   200gm
Visit website:   Not available on Coppertree farms website at time of writing
Shelf price:   Not available at time of writing
Available from:   Woolworths
Distribution:   National
jul2021
Disclaimer: The Grocery Geek provides general product information which is intended as a guide only, please ensure that you read the product label before consuming.