Red Bull – The Summer Edition 2021 – Dragon Fruit Flavour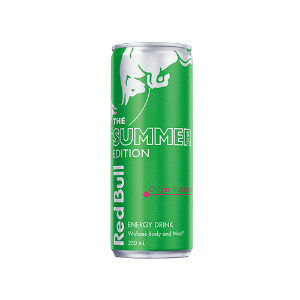 Red Bull believes that their 2021 Summer Edition Dragon Fruit flavour is guaranteed to take your tastebuds on an exotic escapade you won't forget.
This delicious new flavour pulls its inspiration from the unique and lip-smacking Dragon Fruit (Pitaya) – bursting with red berries and hints of plum, this magenta coloured boost of energy is gives the flavour of the best part of summer
Only available for a limited time.
Located:   Drinks aisle
Size:   300ml
Visit website:   Not available on Red Bull website at time of writing
Shelf price:   ∼$3.00
Available from:   Initially available at 7-Eleven
Distribution:   National
jul2021
Disclaimer: The Grocery Geek provides general product information which is intended as a guide only, please ensure that you read the product label before consuming.