Freedom Foods – BARLEY+ Cereals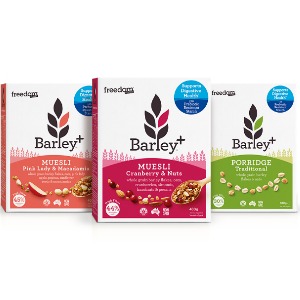 Freedom Foods has launched a new range of cereals using the CSIRO developed BARLEYmax wholegrain.
BARLEYmax was created by the CSIRO as part of their research into grains with higher fibre content and enhanced nutritional benefits – the CSIRO took barley grains and using conventional plant breeding techniques, created a new type of barley with types of fibre –insoluble, soluble and resistant starch.
Freedom Foods believes that their Barley+ is the best cereal grain – Barley+ contains the Non-GMO BARLEYmax grain which has more of the 3 important fibre types together in 1 grain, developed by Australia's leading scientific research organisation, the CSIRO.
Freedom Foods says one 50g serve of muesli from its new Barley+ range almost provides two serves of wholegrains.
Resistant starch
Excellent source of fibre
Soluble fibre
Insoluble fibre
Source of protein
No preservatives
Low GI
No artificial colours or flavours
Supports digestive health with Prebiotic resistant starch
Non GMO
Australian grown & made
BARLEYmax wholegrain developed by CSIRO
Available in 3 variants:
* Cranberry & Nuts Muesli – whole grain barley flakes, oats, cranberries, almonds, hazelnuts & pecans – high fibre = 44% of daily fibre needs – 400gm.
* Pink Lady & Macadamia Muesli – whole grain barley flakes, oats, pink lady apple, pepitas, sunflower seeds & macadamias – high fibre = 45% of daily fibre needs. 400gm.
* Traditional Porridge – whole grain barley flakes & oats – high fibre = 30% of daily fibre needs – 500gm.
Located: Health food aisle
Health Star Rating (HSR): 5
Size: As detailed above.
Release date: Released
Road test: Untested
Visit website: Click here
Shelf price: ∼$8.00
Available from: Coles
Distribution: National
aug2017