Gourmet Garden – Mixed Herbs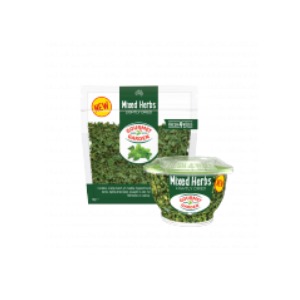 Mixed herbs are the busy cook's go-to for quick flavour on the fly. The epitome of versatility – mixed herbs can be used in everything from soups, casseroles and garlic bread to pizza, meatballs and spaghetti bolognese.
New Lightly Dried Mixed Herbs are made with a blend of organic, Australian grown basil, oregano and parsley which have been lightly dried (just enough) to refresh full of flavour in your everyday cooking. They're the closest thing to fresh chopped herbs in look, taste and aroma and best of all, they keep fresh in the fridge for 4 weeks which means no waste.
In cooking use about 1 tablespoon of Lightly Dried Mixed Herbs to replace 2 tablespoons of fresh herbs or 1 teaspoon dried herbs.
Gourmet Garden Lightly Dried Mixed Herbs are available in 2 sizes:
Pinch pouch – ∼$2.98
Stackable pot – ∼$4.00
Located:
Produce (refrigerated) aisle
Size: As detailed above
Release date: Released
Road test: Untested
Visit website: Click Here
Shelf price: As detailed above
Available from: Coles, Woolworths, various IGA/Foodland/independent supermarkets
Distribution: National