Harvest Gourmet – Incredible Burger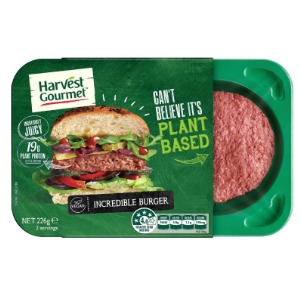 Nestlé has launched a new 'cook from raw' plant-based burger – Harvest Gourmet Incredible Burger.
The Harvest Gourmet Incredible Burger delivers on delicious taste and juicy texture as well as a similar cooking experience to that of a meat burger, while providing the nutritional benefits of plant-based proteins.
The Harvest Gourmet Incredible Burger is made with soy and wheat protein resulting in a burger that is high in protein and fibre then blended with natural plant extracts – beetroot, carrot, and capsicum, which are prepared using proprietary techniques so as to imitate the juicy texture of a beef burger – chopped coconut oil is used to give the burger its marbled fat appearance, leaving a luxurious feeling after every bite.
Incredibly juicy
19g plant protein (av, per serving)
Plant based
Vegan
Located:   Butchery aisle
Health Star Rating (HSR):    4
Size:   226gm 
Visit website:   Not available on Nestle website at time of writing 
Shelf price:  ∼$12.00
Available from:   Woolworths
Distribution:   National
oct2019