Palmolive – Ultra Strength Dishwashing Liquid – Antibacterial Charcoal & Lime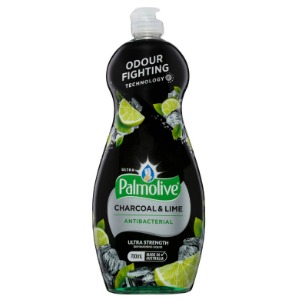 Palmolive Antibacterial Ultra Strength Concentrate Charcoal & Lime Dishwashing Liquid contains charcoal extract. It also has Odour Fighting Technology to help you take on the toughest odours while you're washing up.
The formula has an antibacterial agent that fights germs on the sponge for 36 hours.
Palmolive Ultra Charcoal & Lime will cut through the grease and leave your dishes sparkling clean so you can spend more time with those you love.
Located: Cleaning aisle
Size: 700ml
Release date: Released
Road test: Untested
Visit website: Not available on Palmolive website at time of writing
Shelf price: ∼$5.50
Available from: Woolworths, various IGA/Foodland/independent supermarkets
Distribution: National
jun2019