Red Tractor – Quick Cook – Quinoa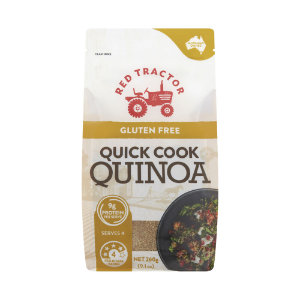 Quinoa is a delicious, gluten-free alternative to starchy grains. Popular in vegetarian and vegan dishes, quinoa is extremely versatile and can be used in place of rice, bulgar, barley or couscous.
Red Tractor new quick cook quinoa is easy to prepare and takes half the time of regular quinoa to cook. With a whopping 9g of protein per serve and 4 star health rating, it's set to fill you up, leave you feeling good from the inside out and even gives you a little bit of time up your sleeve!
Gluten free
9g protein per serve
Serves 4
Located:   Health foods aisle
Health Star Rating (HSR):    4
Size:   260gm
Visit website:   Click Here
Shelf price:   ∼$6.00
Available from:   Coles, various IGA/Foodland/independent supermarkets
Distribution:   National
jul2021
Disclaimer: The Grocery Geek provides general product information which is intended as a guide only, please ensure that you read the product label before consuming.