Undercover Roasters – Eclipse X UCR Mocha Mint Granules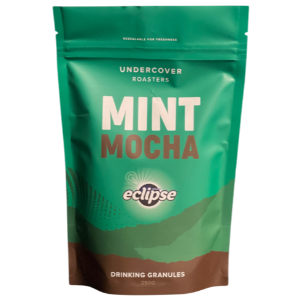 Undercover Roaster believe they have solved that breath you have after coffee – they have created their new Eclipse X Undercover Roasters Mocha Mint Granules – a mocha coffee that leaves you with a fresh mint breath – perfect for hot and cold drinks as well as smoothies – also Ideal as a liquid concentrate.
Leaving you with a surprising minty fresh breath. 
Size:   250gm
Visit website:   Click Here
Shelf price:   ∼$9.95
Available from:   Online from UCR: Click Here
Distribution:   National online
jul2021
Disclaimer: The Grocery Geek provides general product information which is intended as a guide only, please ensure that you read the product label before consuming.