Super Nature – Super Pulses – Lemon Ginger Chicken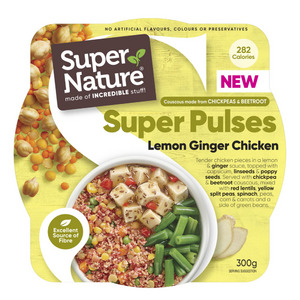 The Super Nature Super Pulses range has all the incredible benefits of superfoods with added pulses, nature's smart food. Why so smart? They are naturally low in calories, rich in protein, high in fibre and vitamins; PLUS, they're environmentally sustainable. Pulses, nature's little powerhouse. Good for you and good for our planet. Now Super Nature has released a new variant to the Super Pulses range – Lemon Ginger Chicken.
Tender chicken pieces in a lemon & ginger sauce, topped with capsicum, linseeds & poppy seeds. Served with chickpea & beetroot couscous, mixed with red lentils, yellow split peas, spinach, peas, corn & carrots and a side of green beans.
Couscous made from chickpeas & beetroot
Snap Frozen to Ensure Freshness
Excellent Source of Fibre
282 Calories
No Artificial Flavours, Colours or Preservatives
Made in Australia
Located:   Freezer aisle
Size:   300gm
Visit website:   Not available on Super Nature Foods website at time of writing
Shelf price:   ∼$4.00
Available from:   Coles, Woolworths
Distribution:   National
oct2020