Super Nature – Wellness Bowl – Cacciatore Style Plant Protein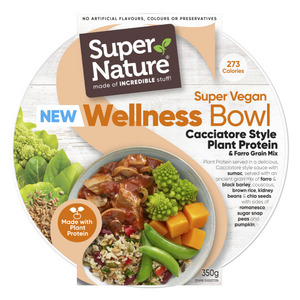 The Super Nature Wellness Bowl range is bursting with some of the healthiest and most natural superfood ingredients. Each bowl is a crafted delicious recipe full of power-packed grains, nutritious vegetables and loaded with mother nature's superfoods to help fuel your body and improve your wellbeing. Now Super Nature has released a new variant to the Super Vegan Wellness Bowl range – Cacciatore Style Plant Protein & Farro Grain Mix.
Plant Protein served in a delicious, Cacciatore style sauce with sumac, served with an ancient grain mix of farro & black barley, couscous, brown rice, kidney beans & chia seeds with sides of romanesco, sugar snap peas and pumpkin.
273 Calories
Made with Plant Protein
Snap Frozen to Ensure Freshness
No Artificial Flavours, Colours or Preservatives
Made in Australia
Located:   Freezer aisle
Size:   350gm
Visit website:   Not available on Super Nature website at time of writing
Shelf price:   ∼$6.30
Available from:   Coles, Woolworths
Distribution:   National
oct2020