Tyrrell's Hand-Cooked Crisps – Smoky Texas BBQ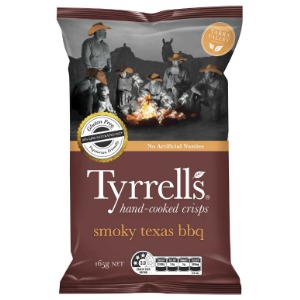 Tyrrell's have released their latest flavour – Smoky Texas BBQ… sun going down, idle-chit chat and the sweet smoky smell of a Texas bbq.
Tyrrell's take the finest Australian potatoes and cook them by hand in small batches, with the jackets firmly on. Mother Nature is our guide and anything artificial is a strict no-no. Tyrrell's think they're rather special.
Cooked in sunflower oil
Gluten free
No artificial flavours or colours
Free of GMO ingredients
No preservatives
No added MSG
Made in a nut-free facility
Located: Snack foods aisle
Health Star Rating (HSR): 3
Size: 165gm
Release date: Released
Road test: Untested
Visit website: Not available on Tyrrell's website at time of writing
Shelf price: ∼$4.50
Available from: Coles, Woolworths, various IGA/Foodland/independent supermarkets
Distribution: National
jun2019