Superior Liquorice Co. liquorice range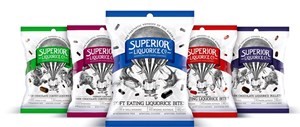 This new range offers a variety of fragrant and sweet flavours, uniting soft liquorice qualities with smooth milk, dark and white chocolate options, all made in Fyna's factory in Melbourne's South East.
The range has 10 flavours, including:
Soft Eating Liquorice Bites
Raspberry Flavoured Soft Eating Liquorice Bites
Milk Chocolate Coated Liquorice Bites
Raspberry Flavoured Dark Chocolate Coated Liquorice Bites
Soft Eating Liquorice Wheels
No other details have been provided – we will update you as soon as more information is available.
In the meantime keep your eyes open at your supermarket.