Time's Up Sonic Pest Repeller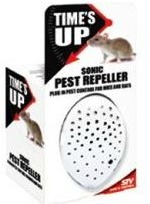 Time's Up Sonic Pest Repeller produces powerful ultrasonic waves to help prevent mice and rats from infesting homes, sheds, and garages. The ultrasound produced is inaudible to humans and safe to use around children as well as cats and dogs while it repels mice and rats by emitting a continuous output of over 100 dB.
Plugs into any wall outlet (Suitable for 240 Volt power outlet. Never plug into a power inverter. Use AC power outlets only. For indoor use only.)
Directions for Use : Plug into a standard socket wherever there is evidence of rodent activity. Ensure unit is unobstructed by furniture, curtains, etc. Use one unit per 37 square metres or in each room area affected. For larger or irregular shaped rooms use multiple units.
Important: Do not use around rodent pets (e.g. hamsters, guinea pigs and rabbits.)
Located: Pest Control section
Health Star Rating: Not Applicable
Size: 1pk
Release date: Released
Road test: Untested
Visit website: website not provided
RRP: ∼$19.77
Available from: Not advised – Seen at Coles